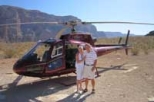 Grand Canyon All American Helicopter Tour
Price from: $299.99
Take off from Las Vegas Airport on an exhilarating helicopter flight to the Grand Canyon. You'll enjoy a 45-minute helicopter flight each way, land deep in the canyon for a champagne picnic, and fly low over the famous Las Vegas neon Strip on your return. The Grand Canyon All American Helicopter Tour is a half-day tour, leaving you with time in the day free to explore Las Vegas and Nevada at your leisure.
All American Tour highlights
Our most popular tour which is also one of our most versatile in terms of departures for your to pick to start the tour.
Like in all of our helicopter tours, you get picked-up and dropped-off with a limousine that makes you feel like a VIP while cruising on the streets of Las Vegas.
Your helicopter tour takes you on a 45 minute flight to the Grand Canyon where you will pass all the great sights, including the Hoover Dam, Lake Mead and Lake Las Vegas.
The helicopter lands about 3200 feet below the rim, at a location that only helicopters can reach. Here you are treated to a glass of champagne while you have enough time to enjoy the scenery and take photos to record this unforgettable moment in your life.
The return trip has another treat for you: a low level pass over the Las Vegas Strip.