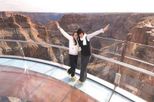 Skip the Line: Grand Canyon Skywalk Express Helicopter Tour
Price from: $439.99
The quickest way to visit the Grand Canyon Skywalk from Las Vegas, this express helicopter tour is ideal for travelers short on time. Enjoy a scenic helicopter flight over Lake Mead, Hoover Dam and the Las Vegas Strip, before taking advantage of the incredible panoramic views from the Grand Canyon Skywalk.
Grand Canyon Skywalk Tour highlights
The Skywalk Express Tour is ideal for visitors that do not want to miss the Grand Canyon but are short on time to take a regular Helicopter Tour.
This is the quickest way to visit the Grand Canyon from Las Vegas
A limousine picks you up and takes you to the helicopter airport.
Here you take a 45-minute flight to the Grand Canyon, flying over the Hoover Dam and Lake Mead in the process
Once your helicopter lands, you are taken to the Grand Canyon Skywalk where you do not have to wait in line. You bypass the lines and gain direct access to the Skywalk.
From here, you have an incredible view of the Grand Canyon, and about 15 minutes of time to enjoy the view. While you are not allowed to bring items on the glass bridge, your tour does include a souvenir photo that is taken for you while you are on the Skywalk.
You are then taken back to the helicopter, which will take you back to Las Vegas. Here you can enjoy an incredible view of the famous Strip on your way back.
Your limousine waits for you on the airport to take you back to your hotel.