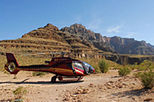 Grand Canyon Deluxe Helicopter Tour with Champagne Picnic
Price from: $419.99
Take a helicopter flight into the depths of the Grand Canyon for a champagne picnic 3,200 feet (960 meters) below the canyon rim. You'll also take a low-level flight over Lake Mead, Hoover Dam and extinct volcanoes, and conclude your adventure with an exciting pass over the Las Vegas Strip. This is a half-day tour, leaving you with time in the day free to explore Las Vegas and Nevada at your leisure.
Deluxe Helicopter Tour highlights
If you fancy a tour that you will never forget, our Deluxe Helicopter Tour may be exactly what you are looking for.
A limousine picks you up from your hotel and drops you off again after the trip.
You then take a flight in state of the art helicopters that take you over some of the most impressive sights that you will see in your life: the Hoover Dam, Lake Mead, extinct volcanoes and of course, the Grand Canyon itself.
Your helicopter then lands at the destination of the flight in the Grand Canyon, where you receive a glass of champagne and lunch.
You have got enough time to take photos or film the scenery, and marvel at the red rocks of the Grand Canyon, a sight that you surely will never forget.
On your flight back to Vegas, your helicopter passes over part of the Strip, providing you with an incredible aerial view of Las Vegas.