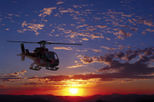 Grand Canyon West Rim Deluxe Sunset Helicopter Tour
Price from: $419.99
Take off from Las Vegas on a magical sunset helicopter tour to the Grand Canyon. You'll enjoy a 45-minute helicopter flight each way, land at the Grand Canyon for a champagne picnic while you watch the changing colors of sunset, then fly low over the famous neon-lit Las Vegas Strip on your return.
Deluxe sunset Helicopter Tour details
The helicopter tour is one of our most popular tours which couples, newly weds but also families like to book for it scenic flight and incredible aerial views.
Limousine pick-up from the hotel that you are staying in to the heli pad from where the ride begins. Tour departs about two hours before sunset.
The tour takes you over Lake Las Vegas, Lake Mead, the Hoover Damn all the way to the West Rim of the Grand canyon
Audio headphones are available during the flight with commentary.
The helicopter lands, and you are treated to a champagne picnic while you enjoy the sun set over the horizon.
You flight back to Las Vegas includes a low-level flight over the Strip which is brimming with activity and lights, a sight that you will never forget.
A limousine drops you off at your hotel once your landed.