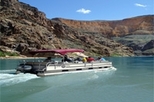 Grand Canyon Helicopter Tour and Colorado River Boat Ride
Price from: $494.99
Fly to the Grand Canyon's West Rim by helicopter, enjoy a champagne picnic, then cruise the Colorado River. This is a half-day tour, leaving you with time in the day free to explore Las Vegas and Nevada at your leisure.
Colorado River Boat Ride details
This tour combines a helicopter tour and a boat ride on the Colorado River together which provides you with a unique view of the Grand Canyon from water and air.
You and your fellow tour participants are picked up and dropped off by limousine, making the journey that more enjoyable.
You then take off on a 45 minute helicopter ride to the Grand Canyon, passing the great Hoover Dam on your flight.
The helicopter lands on the rim near the Colorado River where you can drink a glass of champagne and enjoy a (light) picnic overlooking the incredible scenery.
You then board the boat that is taking you on a fifteen minute trip on the Colorado River that is allowing you to take in your surroundings in a different perspective.
You can then enjoy the return helicopter trip to Las Vegas, overflying Lake Mead's north shore and the Las Vegas Strip in the process.